Type & print traceable alpahbet worksheets
Primary Tablet prints whatever you type in your choice of primary tablet formats, with or without ruled lines, solid or dotted lettering, and with or without directional arrows or color-coded starting dots and arrows.
Windows 10, Windows 8.1, Windows 7, Vista, & XP
Mac OS X 10.5 or later (including macOS Mojave and Catalina)
Tired of stock coin counting worksheets?
Generate unique coin counting worksheets with Coin Printables, complete with sample answers, editable worksheet instructions, and answer keys, with a few clicks of the mouse.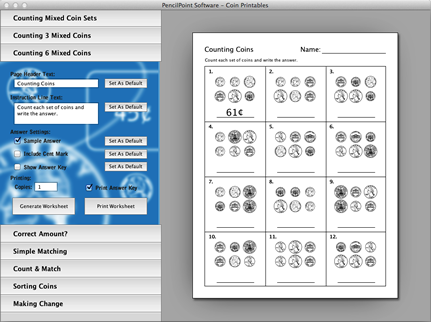 PencilPoint Software, P.O. Box 697, Thorsby, AL 35171